All the children and the staff loved what he did. He made story telling come alive and vibrant. The class participation was excellent.
Linda Satur, Hartley Primary School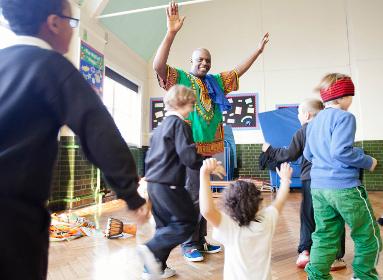 We use storytelling to great effect at the Early Years and Foundation Stages (EYFS), but what we saw happening with the older children was a revelation. The stories Norman tells work on different levels so that as he progressed up the year groups I saw that the children got more out of them.
1 in 4 children in our borough leave primary school with below average literacy skills, I'm glad our school has found a way of bucking the trend.
Sarah Cairns, King Edward Primary School.
I would like to say a big thank you, to yourselves and Norman Bailey for the fantastic storytelling day last Tuesday. Both the children and the teaching staff were completely captivated and engaged.
Maggie Cross, History Co-ordinator, St Fidelis School, Kent
Thank you Norman for making the kids and staff have such enjoyable sessions. Dawn has said hat she is keen to book you again. We'll be in touch.
Carol Shone, Deputy Headteacher, Surrey Square Primary School
A big thank you for yesterday, Norman. More than just a storyteller! Your stories were brilliant and set the scene for the children's own story contributions perfectly. The children were riveted as were the parents. But you brought much more to the day than this with the way you engaged with the children throughout the morning.
The children had a fabulous day and you played a big part in that.
Jill McWilliam, The Boat Day Celebrations
The kids were entranced, dazzled, intrigued, amazed, animated and you came across as warm, magical, spontaneous, interactive and totally trustworthy.
L. Wallace, Devon
Physiologically I'm less strained when singing or speaking for a long time. The effect of the change in my vocal projection is evident in the way people respond to me.
Mina Hosokawa , yoga teacher, choir singer & producer
It made a whole world of difference.
Charline Rodriguiez, Journalist and BBC news correspondent
So beneficial, and I noticed increased confidence in my voice....so thank you!!
Colette Patterson, Singer.
EXCELLENT! The best singing teacher I've ever had.
Donna Cartwright, Dancer
The confidence I gained gave me the courage to go up for my first major casting and I wasn't nervous at the audition.
Gary Bland, Actor, Singer